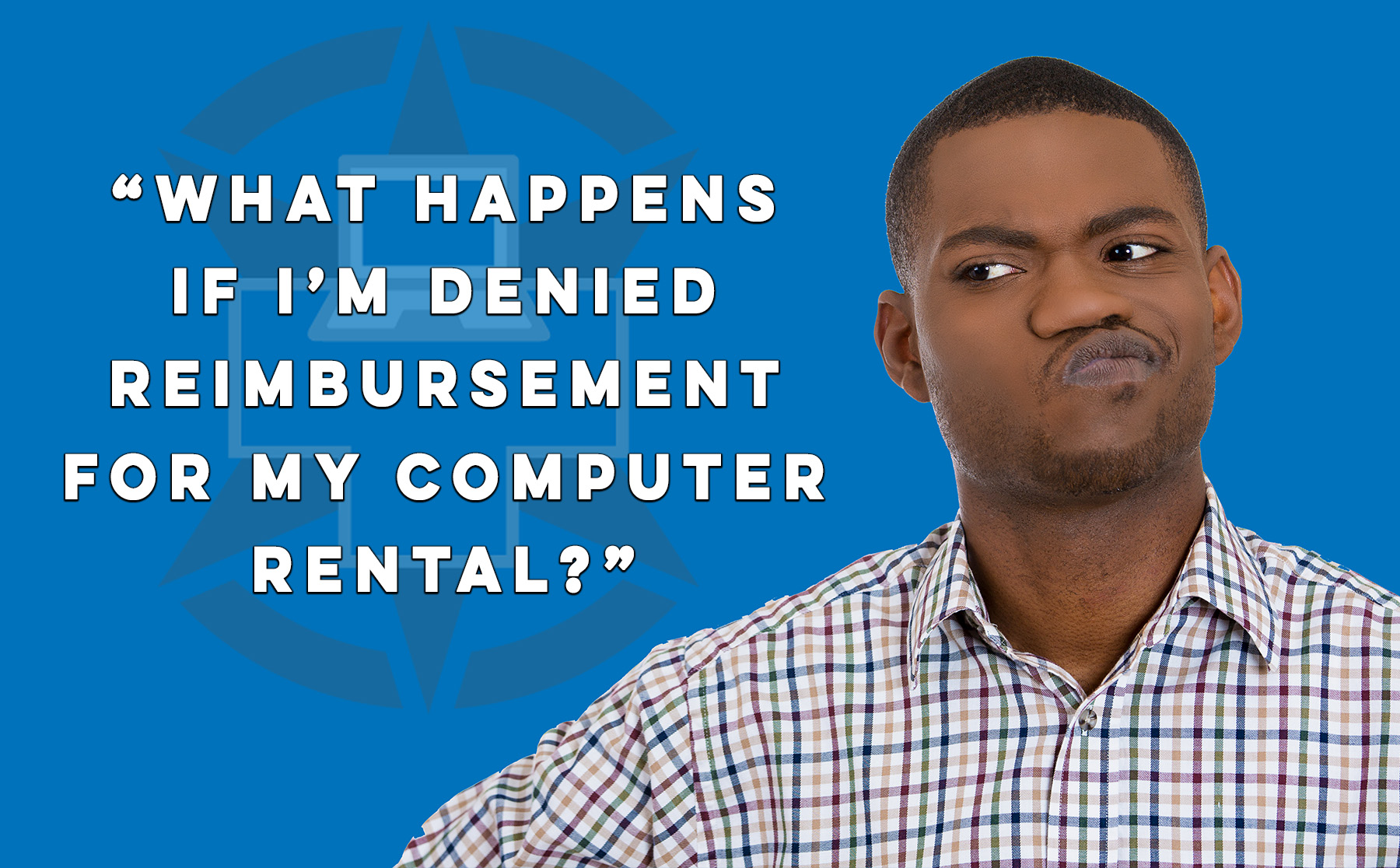 One of the biggest hang-ups for students considering renting a laptop or tablet as an Health Professions Scholarship Program (HPSP) recipient, is the worry that they might not be granted reimbursement for the rental. This concern perhaps originates from the fact that most students have never had to rent a laptop before, and they aren't sure if a laptop rental really is a benefit of the scholarship. So the first question they ask before getting their HPSP computer rental is, "What are the repercussions if I'm not reimbursed for my laptop rental? Am I stuck with the computer, or can I get a refund?"
First of all, we want to assure students that the laptop rental benefit of the HPSP scholarship is just as real of a scholarship benefit as the reimbursement benefit for health insurance, books, and loupes (for dental students). It is understandable for students to have many questions about the HPSP laptop rental process, but there is no need to question if it is actually a benefit. All three branches of the military – Air Force, Army, and Navy, offer students $500.00 per year of the scholarship for a computer rental. There are no tricks or gimmicks attached. Once a student understands this, there's no reason to believe that the laptop rental benefit is not legitimate, and that they may not be reimbursed for this reason.
The only thing that a student can possibly be denied reimbursement for is not providing proof of computer requirement with the reimbursement request. Army students do not need to submit a proof of requirement when submitting a reimbursement request for an HPSP computer rental. However, the Air Force and Navy mandate that students provide proof of computer requirement from their respective graduate program. Proof of computer requirement is a statement from medical, dental, optometry, or veterinary schools stating that students are required to have a computer for the graduate program they are enrolled in. Fortunately for HPSP students, almost all schools require students to have a computer, and a paragraph stating this is often found in the student handbook. When it is not stated in the student handbook, Air Force and Navy HPSP recipients can contact one of the deans of their program and ask for a short letter that states a computer is required for their program. An excerpt from the student handbook or a letter from the dean is sufficient proof of computer requirement. As long as Air Force and Navy HPSP students can provide proof of computer requirement to the military, they WILL be reimbursed for computer rentals from Laptops For Military Docs. Army students ARE reimbursed for computer rentals regardless, as they are not required to provide proof of computer requirement.
All students previously or currently renting from Laptops For Military Docs, who have been able to obtain proof of computer requirement from their school, have successfully been reimbursed for their HPSP laptop rental. Although a 100% reimbursement success rate with Laptops For Military Docs is quite promising, some students may still wonder, "What happens if I'm the one person that is denied reimbursement for my computer rental for some other reason?" In the unlikely circumstance that this happens, Laptops For Military Docs has a clause in its contract that states,
"Laptops For Military Docs will issue the student a full refund for the rental in the event that the student is denied reimbursement by its branch of the military only if the denial of reimbursement is not at the fault of the student (such as not submitting proof of requirement)."
This clause is designed to protect the student in the event the student is denied reimbursement. Laptops For Military Docs is so confident that students will be reimbursed (as long as they have the proof of requirement) that students are encouraged to begin using their laptop upon arrival, even prior to knowing if they've been granted reimbursement for the computer. If a student is denied reimbursement, we will have the laptop shipped back to us at no expense to the student, even if it has already been used. We will then provide the student with a full refund.
Laptops For Military Docs offers students with a full refund in the event they are denied reimbursement because it is part of our policy to create a stress free rental process for HPSP recipients. With this guarantee in mind, HPSP students can rent a computer from Laptops For Military Docs without worrying about whether or not they will be reimbursed. In either scenario, our service ensures that HPSP recipients won't pay anything out of pocket for their computer rental.
If you have more questions regarding this topic, feel free to email our team at: support@laptopsformilitarydocs.com
Otherwise, check out your rental options and get your order placed today!