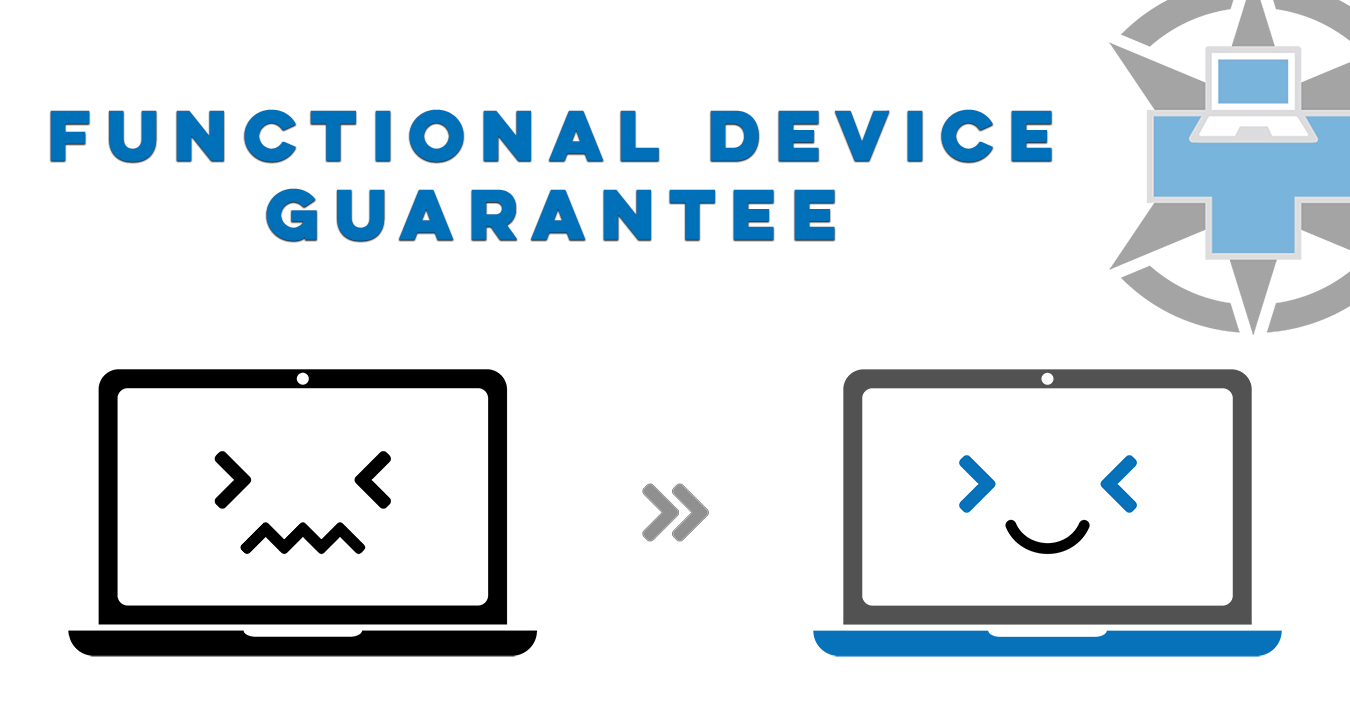 Laptops For Military Docs guarantees its customers a functional device throughout the duration of the rental contract. If a device malfunctions, it will either be repaired or replaced at no cost.
If your device has any issues within the first year, it is covered by the manufacturer's warranty. The manufacturer will either repair it or replace it at no cost. Warranty claims within the first year will need to be addressed directly with the manufacturer.
If issues arise after the first year, then you will need to take your device to your school's IT department for a free analysis. They are often able to fix minor software issues preventing the device from functioning properly. If it is determined that the problems are more advanced, then you must contact support@laptopsformilitarydocs.com to explain the situation. Laptops For Military Docs will either pay to have the device repaired, or send you a replacement device. Before agreeing to any repair costs, wait for a decision from Laptops For Military Docs regarding whether the device will be repaired or a replacement device will be provided. 
In the event that a device malfunctions at no fault of the student, and it is deemed not worth repairing, a replacement device will be provided, at no cost, for the duration of the rental contract. Laptops For Military Docs has gently used replacement devices that have been tested for full functionality and are in very good cosmetic condition. The replacement device may not be the exact device that the student was already renting. However, there will always be a replacement device option running the same operating system. For example, if you are renting a MacBook Pro and it malfunctions in a way that is not repairable, then you will be provided with MacBook replacement device options. We may not always be able to provide the same device (MacBook Pro) as a replacement option, but we will have other options such as the MacBook Air. It is likewise possible that if a student who is renting a MacBook Air needs their device replaced, they will be provided a MacBook Pro as a replacement option depending on the replacement device inventory at the time of the malfunction. You will not be required to switch to a Windows Laptop if you are using a MacBook, nor will you be required to switch to a MacBook if you are using a Windows Laptop.
When renting from Laptops For Military Docs, you are guaranteed a functional device for the duration of the contract. Most of our students make it through their entire contract without any device issues. However, in the case that a major hardware or software failure suddenly occurs, rest assured that we will either repair it, or get another functional device sent out to you. This won't cost you anything extra, as the guarantee to always have a functional device is included in our service. This guarantee doesn't cover water damage, accidental drops, or a lost or stolen device. However, we do everything we can when these situations arise to provide a reasonable solution for the student.
The laptop and tablet rental service provided by Laptops For Military Docs is designed with the student in mind from start to finish. The guarantee that the student will have a functional device for the duration of the rental contract is just one more way that we ensure students have an exceptional experience renting from Laptops For Military Docs. From not having to pay for our service, to being guaranteed a functional device at all times, we provide a stress-free way to maximize the HPSP Scholarship benefits by renting a laptop or tablet at no cost! 
If you have additional questions about our functional device guarantee, please reach out to us at support@laptopsformilitarydocs.com