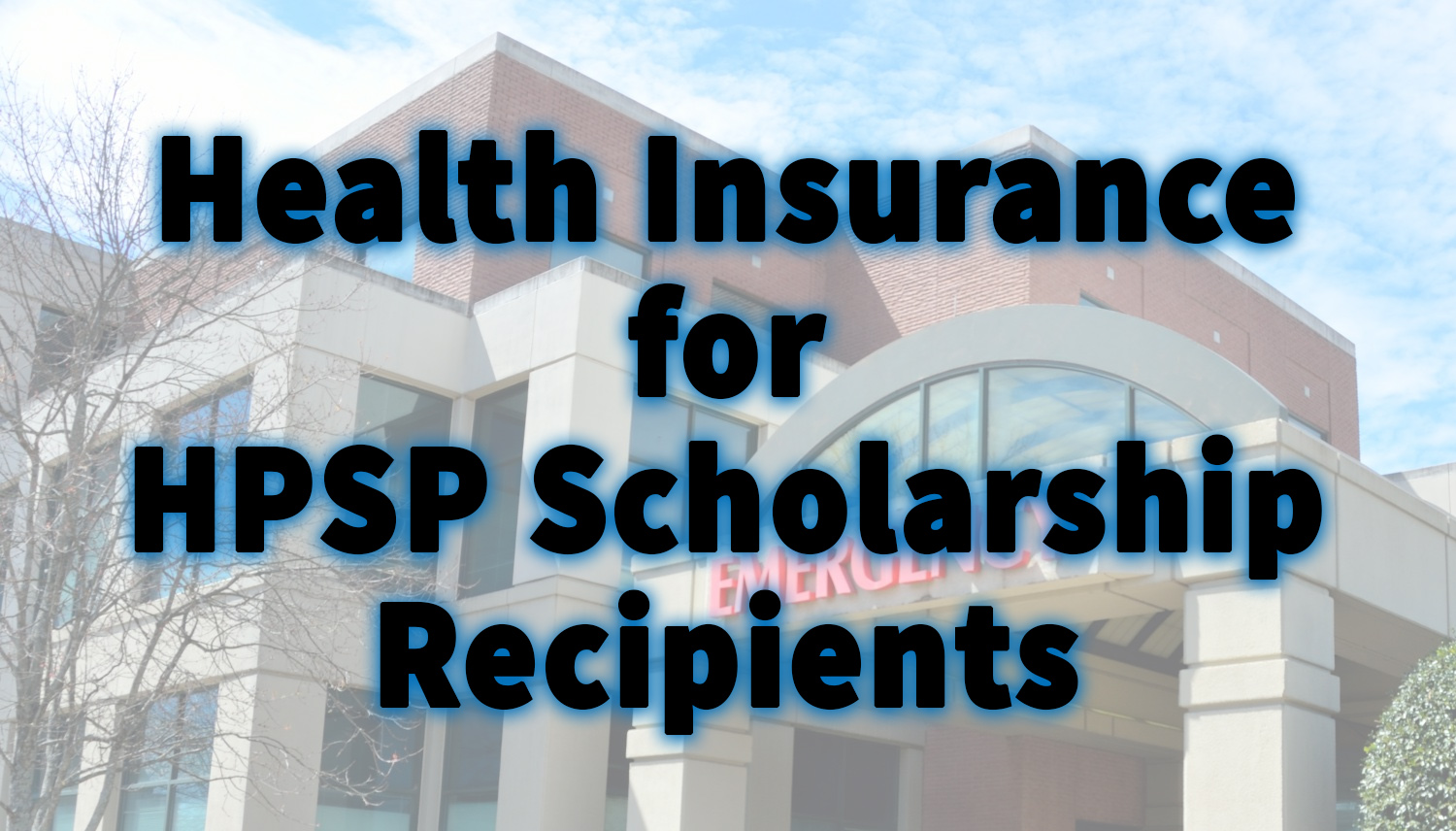 Does the military provide health insurance for HPSP recipients?
Are HPSP recipients eligible for Tricare, or Tricare Select Reserve?
These are questions that many students in the Health Professions Scholarship Program have asked before. Hopefully the information below clears up any questions you may have regarding insurance coverage as an HPSP recipient.
As far as insurance goes for the HPSP scholarship, there are two time frames that must be brought into consideration. The first being when you are not on active duty, which comprises most of the year. The other time frame is when you are on active duty (AKA campus tour), which is 45 days out of every year.
When you are not on active duty you will NOT have any coverage from Tricare. Although you are technically a member of the reserves, the health professions scholarship program is unique in that it does not allow students to enroll in Tricare for their regular insurance coverage. There is NOT a single Tricare plan, including Tricare Select Reserve, that HPSP students are allowed to pay for out of pocket for themselves or their family members. This is how the military has setup the scholarship, and there is no getting around it. However, students are able to be reimbursed for their school's student insurance plan. As long as the professional program requires students to have health insurance (as many of them do), HPSP recipients can purchase health insurance through their school, and be reimbursed for the amount by the military. The military will not, however, purchase insurance for a spouse and kids. This will need to be purchased out of pocket. Since the military has no involvement in paying for insurance for dependents, the insurance can be purchased from whatever source is best for the circumstances. Many students purchase insurance plans for their families through their university. Other students find a plan that suits their family through the healthcare market place, and some are even eligible to enroll in Medicaid based on their family size and income. Remember, Tricare and Tricare Select Reserve are NOT options for HPSP recipients or their family members for normal insurance coverage throughout the year.
When students are on active duty (campus tour), they and their families are also enrolled in Tricare. This comes at no extra cost to the student, and is an automatic benefit of being on active duty. Because the HPSP student and his/her family will already have regular insurance for the year, Tricare will act as the secondary insurance while on active duty. This means that all claims made during the 45 day active duty period will first be billed to the primary insurance, and then billed to Tricare. The two insurances will negotiate how much they will each pay, and any outstanding balances will then be billed to the student. Many students try to plan pregnancies and due dates around active duty windows because they will have Tricare as a secondary insurance to pick up additional costs associated with the delivery. For students looking to have a child, it is worth it for them to contact their military rep to see if they have to time the due date within the active duty window, or if they can be put on active duty at any time to ensure they have Tricare coverage for the delivery. Click here to learn about Tricare coverage for HPSP recipients expecting a baby.
The following table shows the coverage that the HPSP recipient and his/her family would have at different times of the year. The green text indicates insurance coverage that comes at no cost to the student. The red text indicates insurance coverage that is paid for by the student, and NOT reimbursed by the military.
| | | |
| --- | --- | --- |
| | HPSP Recipient | Dependents of HPSP Recipient |
| Calendar Year (365 days) | School Insurance Plan | Insurance Plan of Student's Choice |
| Active Duty (45 days) | School Insurance Plan + Tricare | Insurance Plan of Student's Choice + Tricare |
Insurance enrollment for HPSP recipients and their families is simple. The HPSP recipient can enroll in the school insurance plan and pay the total cost for the year. The student then submits a reimbursement request to the military for the cost of the insurance. At some schools, there is also the option to add the insurance to the tuition bill, which is then paid for by the military. The family is enrolled in health insurance by applying to and paying the selected provider.
Tricare enrollment automatically takes place when the student starts his/her active duty tour. It is wise to call the DMDC Support Office when your active duty starts to make sure they have you and your family in their system correctly and that they have sent your active duty orders to Tricare. The DMDC Support number is: 1-800-538-9552. You should also contact the branch of Tricare in your region to make sure they have received your active duty orders and have enrolled you in Tricare. They will also be able to answer questions regarding healthcare benefits during active duty.
Hopefully the information above clarified some of the confusion surrounding insurance coverage for HPSP recipients. In short, HPSP students are provided with health insurance from their school, which is paid for by the military. Dependents of HPSP students must purchase health insurance out of their own pocket, and cannot be reimbursed for this cost by the military. HPSP students AND their dependents are provided with Tricare at no cost during the 45 day active duty period that takes place every year.
If you are expecting a child, make sure to read the following article: How Much Does Tricare Insurance Cover for Maternity Costs for HPSP Recipients?
If you have more information regarding insurance that would be helpful to HPSP recipients, feel free to leave a comment below or contact us at support@laptopsformilitarydocs.com
*This information is provided as a resource and should not be solely relied upon for information regarding insurance benefits as an HPSP recipient. Specific questions should be answered directly by the HPSP representative for your military branch.