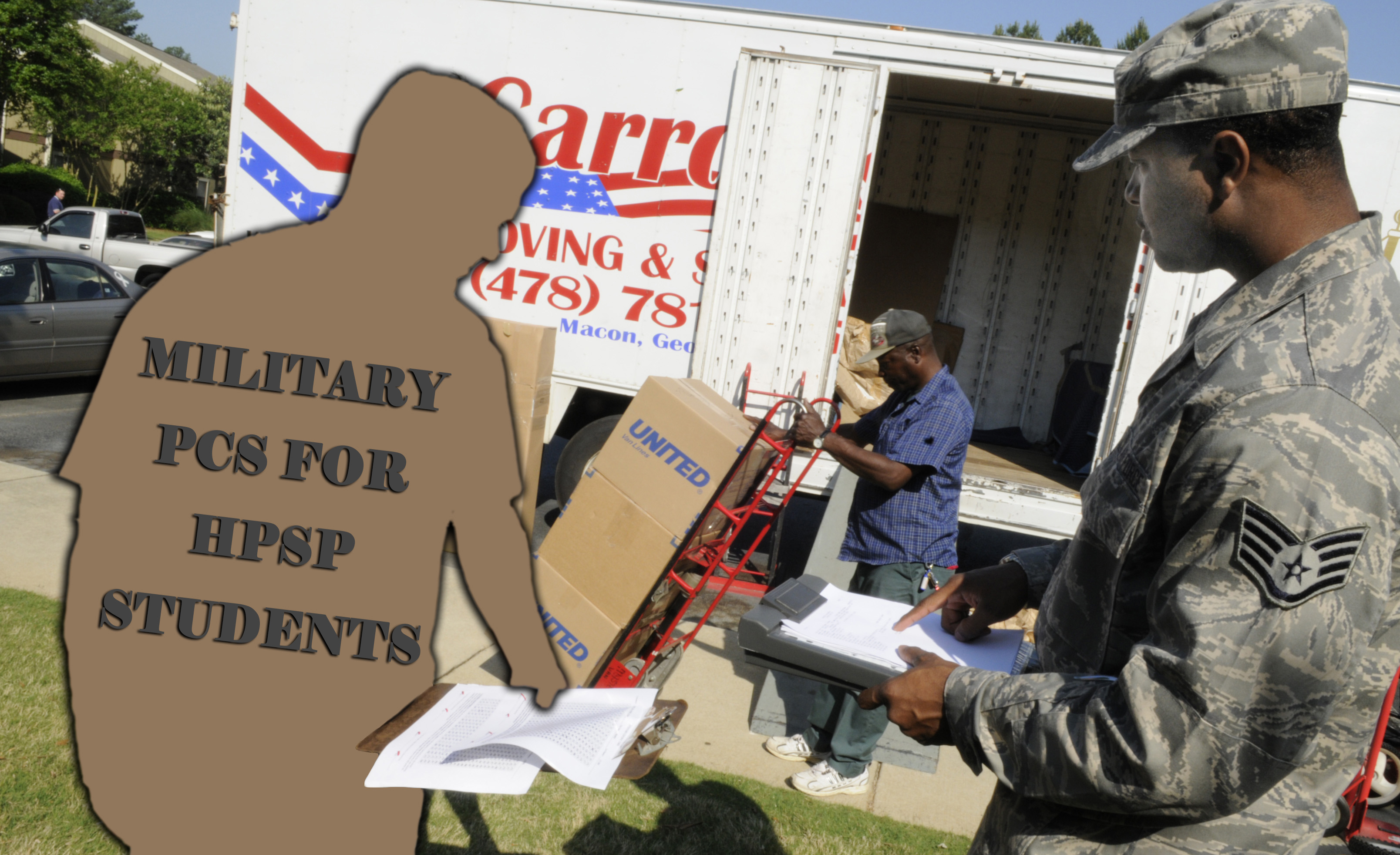 Kyle S., U.S. Air Force Second Lieutenant, HPSP Dental Corps '17
The time has come. You worked your tail off in school and now graduation is just around the corner. You are finally ready to start your career. As a military HPSP student there are many things to get ready as you prepare to go to Commissioned Officer Training (COT) - unless you attended before dental school - and PCS (permanent change of station) to your first military base. There is a lot to get done at this intersection of life and many people say that the move is the most stressful part. The purpose of this article is to provide some insight to how a military move works with the hope of helping your move go smoothly.
Military moves are scheduled through the Transportation Management Office (TMO). If you are lucky enough to have a military base nearby, you can make an appointment with the TMO and have a military employee take you through each part of the move. Make sure you have a copy of your orders when you are at the TMO office because the information on your orders is essential to schedule your move. You also need to go to the website move.mil and make an account in the DPS system. What is the DPS? Here is what it says on the website, "In an effort to make moving a little bit easier for you, the US Department of Defense (DoD) United States Transportation Command (USTRANSCOM) and the Military Surface Deployment and Distribution Command (SDDC) developed the Defense Personal Property Program, or DP3. As part of the DP3 mission, an internet-based system to manage DoD household goods moves was created. It's called the Defense Personal Property System (DPS)." The website seemed pretty straight-forward other than the strange web browser requirements that were there. Once you have an account and log in you should click on the self counseling tab and do a self counseling session. The self-counseling is just a way to familiarize yourself with how the move and website works. Move.mil stores all the details of your move on the website so if you ever need to check on something or make a change then move.mil is the place to go.
There are 3 types of moves you can do in the military:
Personal Procured Move (PPM)

– This is where you pay for and move everything on your own and later receive a reimbursement from the military. You are responsible for transporting your household goods from your current location to your next assignment. This move is formerly known as a DITY. The reimbursement is calculated based on weight moved, distance traveled, and on a per diem (per day) basis. If the reimbursement from the military is more than what it cost you to move everything then it is possible to make some money. However, the reciprocal is also true. If your cost of moving is more than the military reimbursement then you could lose money.

Military Move

– This is where the military packs up and moves all of your household goods (with some exceptions). As a captain you will be entitled to move about 14,000 lbs. IMPORTANT: if you are to remain in the continental United States (CONUS) then the military will NOT move a privately owned vehicle (POV – a fancy way of saying car). If you are going outside the continental United States (OCONUS) then the military will move 1 POV.

Partial DITY

– In this type of move, the military will pack up and move all of your household goods except those goods that you want to move in your own vehicle. You are reimbursed for the weight of the household goods in your vehicle, for distance traveled, and on a per diem basis. This is a great way to get some money to move a POV while having the military do most of the heavy lifting. At a designated weighing station, weigh your vehicle with everything in it and then weigh it once again empty to calculate the weight of the move.
Once you decide which type of move is going work best for you then you need to make an appointment with the TMO office to get the move scheduled. A military employee will help you get everything set up and it will then appear on move.mil. If you do a partial DITY or a PPM then it is a good idea to save all of your receipts. Although the mileage reimbursement is set at 17 cents per mile (as of 2017), they may reimburse you for gas instead because 17 cents per mile may not cover all the gas used by a large moving truck. Be sure to determine which option is best for you.
While in my final semester of dental school, I flew out to my AEGD base to do some house hunting. It was nice to find a place to live and familiarize myself with the area before moving out there. However, you may not be fortunate enough to check out your future area before moving. If this is the case, don't panic! The military has temporary lodging for people that do not yet have a place to move. You are entitled to about 10 days of temporary housing free of charge. If additional time is needed then you will be charged for each day. The military will take money out of your BAH (basic allowance for housing) to pay for the additional time spent in temporary housing. While you are in temporary housing, your household goods get placed in temporary storage and you basically live out of your suitcase. If you have the military move your household goods then they will put your things in temporary storage and move it out of temporary storage to your future residence free of charge.
The fact that you need to attend COT before reporting to your first assignment can make your move fairly complicated. Be sure to precisely follow the instructions on your orders and work with the folks at the TMO office to ensure everything runs smoothly.
A word of wisdom: If you are planning on having the military move your household goods for you, try to get the move scheduled as soon possible. You will be moving during the summer which is known as "peak moving season." The military does a majority of its moves during peak season and there are horror stories out there where HPSP students were unable to schedule a military move because all of the military's moving slots were filled. Once you have your orders, do not procrastinate!
As a captain in the Air Force, part of your pay will be in the form of Basic Allowance for Housing (BAH). This part of your pay along with the Basic Allowance for Sustenance (BAS) is paid to you tax free. The purpose of the BAH is to provide funding for your housing. The amount you will receive for BAH depends on multiple factors, including: rank, whether or not you have dependents, and cost of living at the base you are assigned to. If you end up moving to a base in California you will receive a larger BAH than you would if you move to a base in Montana. The reason for this is that the cost of a house/apartment in California is more than one in Montana. If you are curious what your BAH is going to be then you can check on the Department of Defense website at the following URL: http://www.defensetravel.dod.mil/site/bahCalc.cfm If you live in civilian housing then you receive a BAH. If you decide to utilize military housing then your entire BAH is kept by the military to pay for your housing and utilities.
If you live off base in a privately owned apartment complex, rent and utilities may be $1,000 per month. If your BAH is $1,500 per month, you will get to keep the extra $500 and be able to apply it to other expenses.
If you decide to live on-base (military housing) then it would be prudent to search for your base's housing office and get on the waiting list for housing as soon as possible. A quick Google search will be able to provide you with the housing office's contact information. Remember, if you utilize on-base housing then your entire BAH goes toward housing and utilities.
Like I said earlier, every move is different. However, I would like to quickly outline my own move after I graduated from dental school. This should provide some perspective on how unique and complex each move can be. I am married with two children. My COT dates were June 26th – July 28th. I needed to report to my AEGD base on August 1st. That gave me a whopping 3 days between the end of COT and the beginning of my AEGD. My wife and I owned 2 cars when I graduated from dental school. After crunching numbers to see how profitable we could make a PPM, we decided to not go through the hassle of packing/unpacking our stuff and elected to have the military move our things for us. I flew to COT June 25th while my family stayed in our apartment that we lived in throughout dental school. On roughly July 10, the military came and packed up our household goods at our apartment, and everything was shipped to my AEGD base on July 11th. My wife and kids lived at my in-laws house for the next 2 weeks while all of our stuff was being shipped. In the meantime, my wife sold our second car. My mother and father-in-law were kind enough to drive our other car across the country to my AEGD base (props to them for helping us out, they are incredible people). On July 24th my wife and kids flew to my AEGD base and my in-laws picked them up from the airport. The next day the military delivered our household goods at our new apartment. While I finished my last few days at COT, my family got everything unpacked and settled in at our new place. On July 28th, I flew from COT to my AEGD to start my residency. My move would have been so much easier if I could have attended COT before dental school, so if you have the option to attend COT prior to school starting, I would highly recommend it. Without my in-law's heroics, my wife would have been stuck driving our car across the country with two anxious children in the back seat. The reason we did not do a partial DITY is because my wife wanted to fly with the kids to my AEGD base and the Air Force would not pay for airplane tickets for my family with a Partial DITY. This is because a Partial DITY only covers your cost to get cross country in your car.
Hopefully this information has been helpful to you and that it will serve as a resource when it is time for your PCS after graduation. This information is subject to change so please use it as a supplement, in conjunction with the information provided by the department of defense.
If you have any additions, changes, or suggestions for making this article better please leave a comment below or contact us at support@laptopsformilitarydocs.com
NOTE: This article has been written based off my personal experience as a dental Air Force Health Professions Scholarship Program recipient. Although this article may be applicable to other branches of the military, the Navy and Army may have differences in the way they schedule their moves.