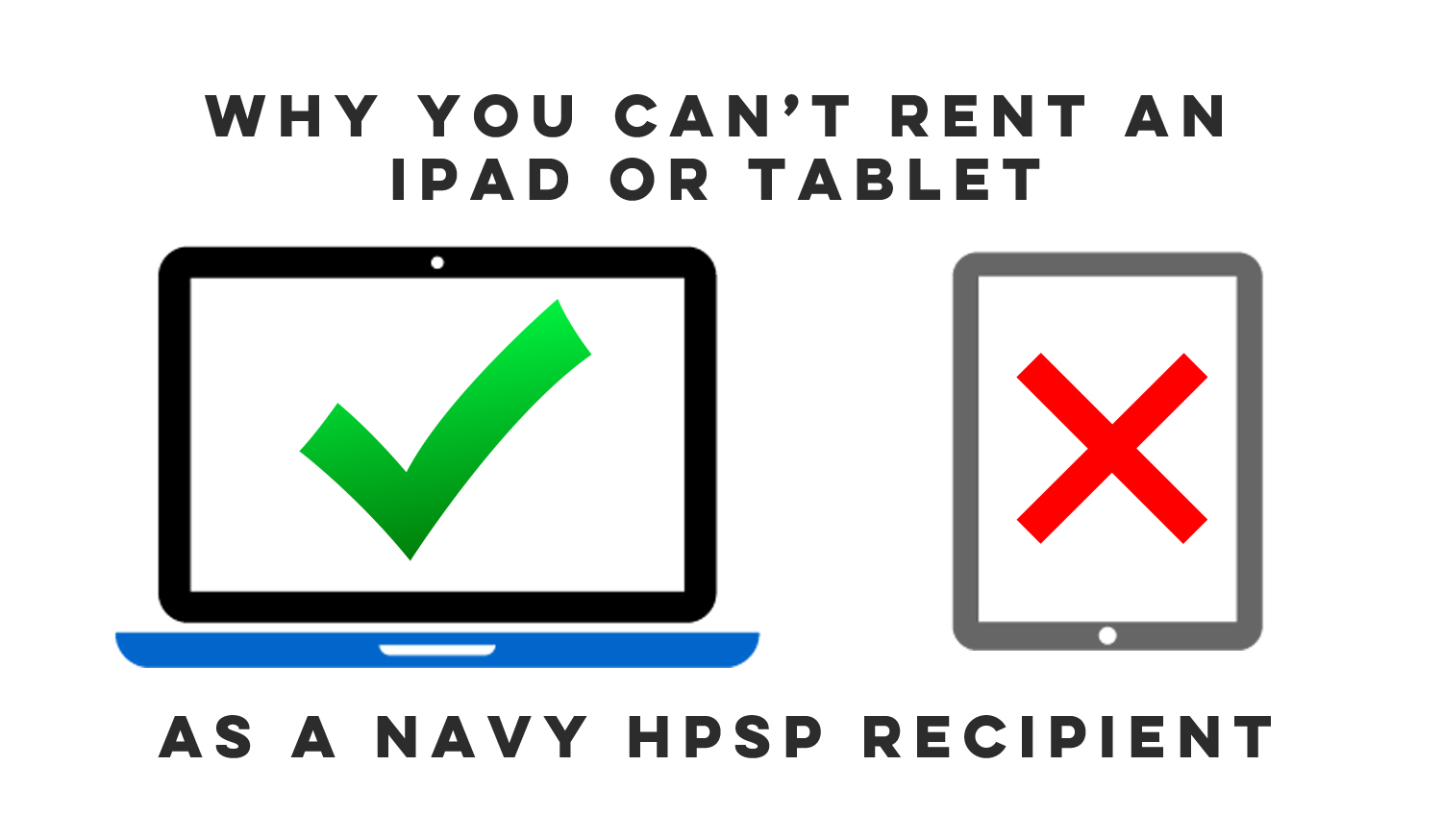 Recipients of the Health Professions Scholarship Program in the Air Force, Army, and Navy, are entitled to a reimbursable computer rental as a benefit of their scholarship. Students can choose the device they would like to rent, with one exception: The Navy will NOT reimburse students for iPads or other tablets. So why is this?
Although the military operates as a whole to protect the United States of America, each branch still operates independently of each other. When it comes to things like the Health Professions Scholarship Program (HPSP), each branch sets forth different stipulations regarding the scholarship. This is why students in one military branch may not be reimbursed for the same exact things as students in another branch. Likewise, some students may not get a signing bonus for receiving the HPSP scholarship, while students from another branch will.
When it comes to computer rentals, the Navy has stated that they will NOT reimburse HPSP students for iPads or tablets. As mentioned above, specific scholarship guidelines are left up to each branch to determine, and the guideline to NOT reimburse for iPads or tablets is one that the Navy has instituted for Navy HPSP scholarship recipients.
Laptops For Military Docs strives to uphold all of the guidelines set forth by each branch of the military for computer rentals. We also know from experience that if a Navy student were to try and be reimbursed for an iPad or tablet, they would be denied reimbursement. For these reasons, iPads and tablets are not offered as rental options to Navy HPSP Recipients by Laptops For Military Docs.
So, what exactly is considered a tablet? There are so many 2-in-1 laptops out there that it is hard to know if something is a tablet or not by the Navy's standards. Laptops For Military Docs has posed this question to the Navy HPSP office and they explained that a 2-in-1 computer is reimbursable as long as it is more of a laptop than it is a tablet. For example, the Microsoft Surface Pro and Microsoft Surface Book both have tablet-like screens. The Surface Pro, however, is only the screen, whereas the Surface Book is a laptop with detachable screen. The Surface Pro is considered a tablet and is not reimbursable; the Surface Book is considered a laptop and is reimbursable.
Laptops For Military Docs has made it easy for Navy students to know if they can be reimbursed for a certain device. Devices on our product page can be filtered by military branch by choosing a certain branch on the left hand side of the page. When the products are filtered for Navy students, only the products that have been approved as "Laptops" will show up. This eliminates the guessing game for Navy students. Navy HPSP recipients can be confident they will be reimbursed for products that show up under our Navy Devices.
Laptops For Military Docs stays current with scholarship regulations for each military branch. If the Navy ever changes their guidelines to allow for reimbursement of iPads and tablets, Laptops For Military Docs will be happy to offer iPads and tablets as rental options to Navy students.
If you still have questions regarding this topic, feel free to email us at: support@laptopsformilitarydocs.com