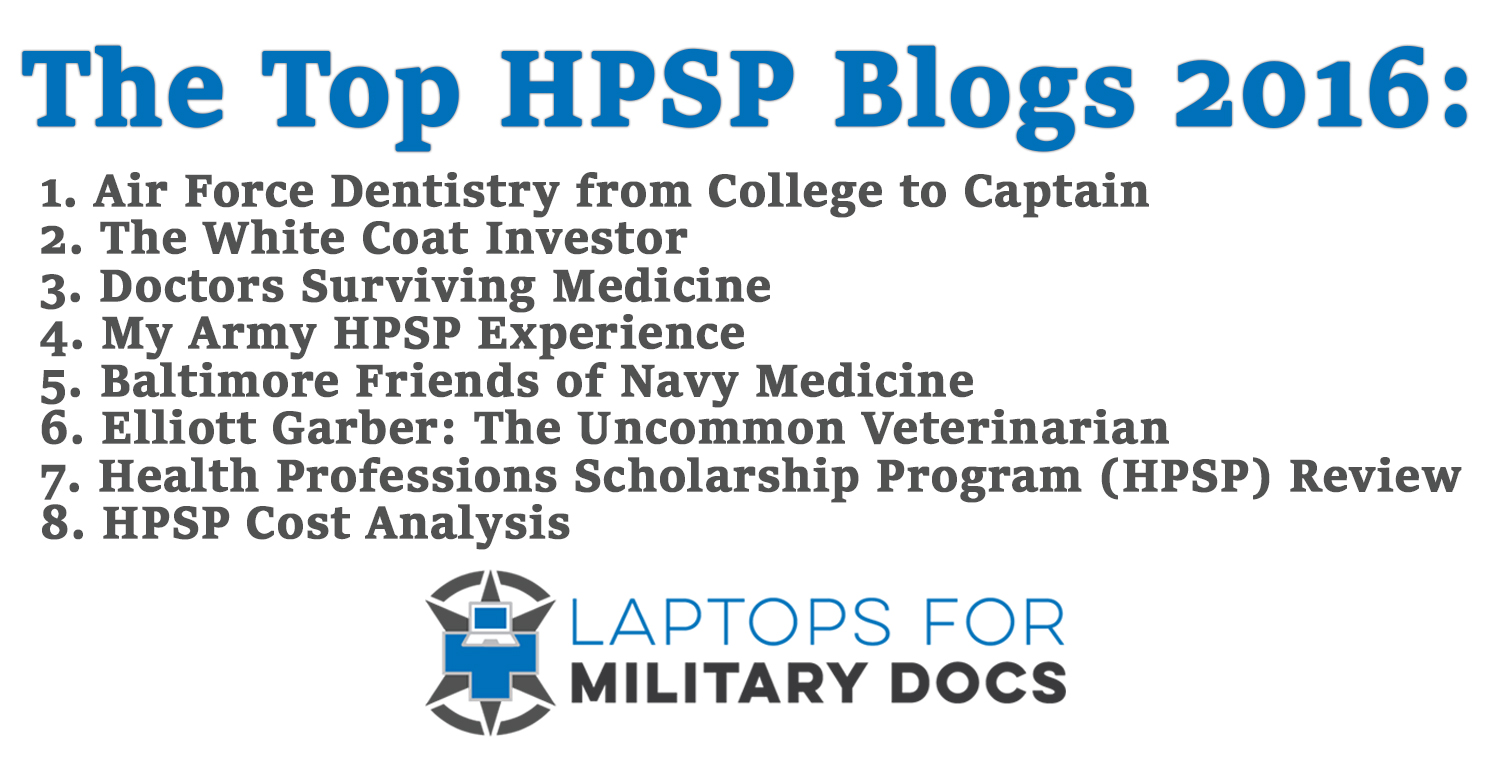 Laptops For Military Docs has combed the internet in hopes of identifying the top HPSP blogs. Some of these blogs are entirely devoted to the HPSP scholarship, while others are just a single blog post. All of these, however, provide valuable information regarding the HPSP scholarship. If you are interested in the health professions scholarship program, feel free to use the following links as you decide whether or not the military route is right for you.
1. Air Force Dentistry from College to Captain
Written by Captain Matthew Lee, this blog thoroughly explains every facet of the scholarship. From program details, to everyday life, this is currently the most comprehensive and up-to-date blog regarding the HPSP scholarship. Captain Lee is responsive to questions that are asked by readers and he can also be followed on Twitter. This blog is specific to dentistry in the Air Force so those who are pursuing Army, Navy or Air Force Medical Corps, or Army and Navy dental corps will need to supplement the information from Dr. Lee with information specific to their branch.
2. The White Coat Investor
http://whitecoatinvestor.com/the-health-professions-scholarship-program-hpsp-scholarship/
This is a guest blog post written by Dr. Beau Ellenbecker DO, who graduated from medical school on the Army HPSP scholarship. Dr. Ellenbecker spells out all of the basics of the scholarship in a simple and understandable way. He encourages applicants to consider why they are applying for the scholarship, and that it shouldn't just be for the money. This is a great read to get a quick snapshot of the scholarship. Readers must keep in mind that the HPSP program was different when Dr. Ellenbecker started school in 2003 and therefore his blog post should not be used as a definite reference for pros and cons of the scholarship.
3. Doctors Surviving Medicine
http://doctorssurvivingmedicine.com/category/military-medicine/
This site was created by an anonymous blogger referred to as "Indy". He created this site because he felt that there wasn't enough information online regarding the HPSP scholarship. His hope is to provide more information for applicants to use in the decision making process. He was an Air Force HPSP recipient and is currently in an OB/GYN residency. His blog posts cover topics about the HPSP scholarship, JSGME Military Match, and Military Residencies. His blog posts are worth reading and all fairly recent, the oldest of which was written in early 2015. His experiences are limited to the Air Force so students pursuing other branches may not find all the answers they are looking for here.
4. My Army HPSP Experience
https://sites.google.com/site/myarmyhpspexperience/home
This blog is written by a current medical student who will graduate in 2019 and is a recipient of the 4 year Army Health Professions Scholarship (HPSP). The blog is easy to navigate and covers basic information regarding the scholarship. Because this site is written by a current student, it has the most current info regarding the scholarship. The topics covered don't go into extensive depth but still offer prospective scholarship recipients a great resource to use as they apply for the scholarship.
5. Baltimore Friends of Navy Medicine
https://navymedicinebaltimore.wordpress.com/
Created by Bob Wheeler, former Medical Officer Recruiter for the U.S. Navy, this site gives students interested in the Navy valuable information regarding the scholarship. Posts cover topics such as "The Nuts and Bolts of the Scholarship" and "How to Apply For the Scholarship" as well as information on officer development school and what makes a good HPSP candidate. Unfortunately the last blog post was added in 2014 so the information might be outdated.
6. Elliott Garber: The Uncommon Veterinarian
http://www.elliottgarber.com/army-veterinarian-part-1-lets-start-at-the-very-beginning/
Elliot Garber's experiences with the HPSP scholarship are extremely valuable considering that there isn't a lot of information regarding the veterinary HPSP scholarship online. He gives great insight into what it's like to be an Army Veterinarian and how to apply for the scholarship. He is extremely responsive to comments posted on his site and seems very willing to help other students interested in the veterinary health professions scholarship program.
7. Health Professions Scholarship Program (HPSP) Review
http://www.doctorshadow.com/hpsp-review/#.V8H4npgrLb0
This article offers an extensive review of the HPSP scholarship, including financial comparisons to the regular civilian route. It is likely not a lot has changed since the article was written in 2014, but current information should be referenced alongside the information provided here.
8. HPSP Cost Analysis
http://inlieuoflecture.blogspot.com/2012/05/hpsp-cost-analysis.html
Although almost 5 years old, this timeless cost analysis helps break down the benefit of going the military route over the civilian route. The actual salaries are different now, however, the concept is the same and the financial benefit is likely very similar.
There are many other blog posts across the web regarding the HPSP scholarship. They are also worth checking out and are listed below:
http://sincerelyt.weebly.com/blog
https://lakekristina.wordpress.com/2016/07/30/hpsp/
http://theonedoctor.blogspot.com/2014/06/hpsp.html
http://www.kiraandmatt.com/my-husband-the-air-force/
http://blogs.medicine.iu.edu/paul-maldonado/2011/07/29/i-drank-the-navy-kool-aid-and-it-is-good-its-grape/
http://agdblogs.blogspot.com/2013/10/an-officer-and-dental-man.html
https://dentalstudentdds.wordpress.com/tag/hpsp/
http://midwesterndmd2012.blogspot.com/2009/01/air-force-hpsp.html
http://lukeballard.tripod.com/HPSP.html
If you know of a site or blog post that belongs on our list, feel free to email us at: support@laptopsformilitarydocs.com We would love to hear your feedback and hope that this information is useful to you in pursuing the HPSP scholarship!